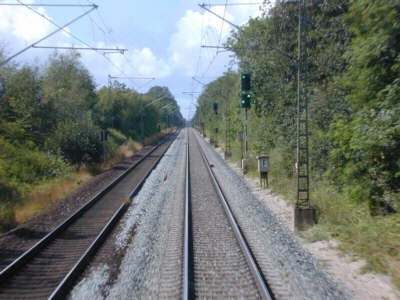 Ride along on a passenger train in service near Hamburg, Germany. After arriving in Hamburg-Altona with a passenger consist, the cars are positioned in the station yard to free the locomotive for its assignment.
The electric-powered 112-series locomotive has been assigned to pick up a consist of passenger cars from Itzehoe to Hamburg Hauptbahnhof. They have been brought to Itzehoe by diesel power from an area in northern Germany not equipped with catenary power. We will travel from Hamburg-Altona as a lone locomotive and have about an hour's layover before moving the passenger consist.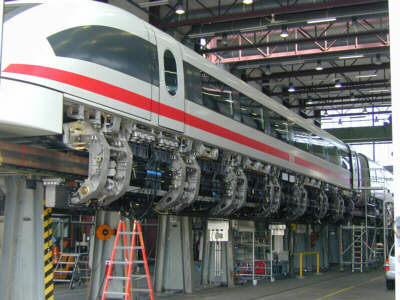 Photos of the TransRapid versions TR07 and TR08, Germany's newest and most sophisticated train. The TransRapid is suspended on a magnetic cushion, providing a nearly frictionless surface for high-speed travel. Currently in prototyping phase, the TR08 version is expected to begin test service in January 2000.
The TransRapid can achieve a speed of 500 kph, roughly 310 mph. Since it has no wheels and no friction with the track, it generates only 80 dB of noise at this high speed. This is just about the noise level of a gentle breeze in a forest.
While the changeover from TR07 to TR08 is underway, DeutscheBahn is resurfacing the track in preparation for the TR08. See the unique Maintenance-of-Way equipment used to achieve the exact tolerances required for high-speed travel on a magnetic field.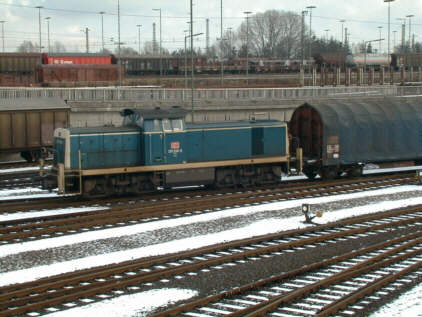 Take a tour through the Maschen Classification Yard, Germany's newest and most advanced hump yard. Includes photos of a wide variety of rolling stock.
Also presented is a sequence of photos taken as a freight train was sorted over the east hump at Maschen. The cars can be seen rolling down the hump and into their assigned positions. Finally, the remaining banana cars are taken to the Hamburg Port to be shipped overseas.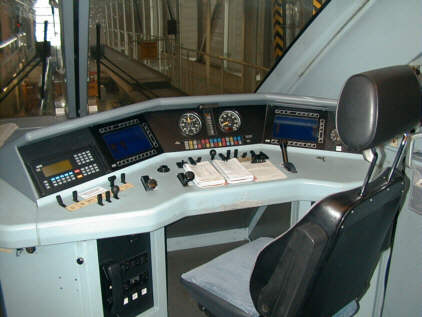 Visit the Hamburg ICE Works and see details of the ICE train and its maintenance. Now in its third generation, the ICE runs at 270 kph (about 170 mph) in smooth and quiet comfort. It services major population areas, frequently using newly-laid track that is exceptionally straight and level, but it also uses standard rails at slower speeds.
Photos include detailed views of the underside and inside of the train. A unique sequence of photos shows the rapid and accurate replacement of a wheelset on a train in for service. With the help of a special machine and repair track, a new wheelset is mounted in just 10 minutes.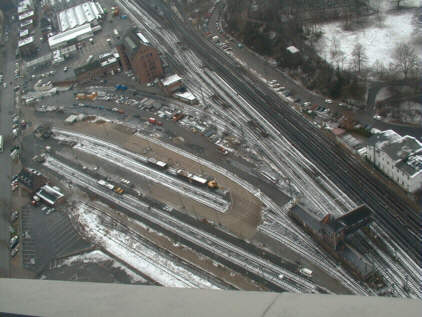 A collection of photos of German rolling stock and trackwork.
Includes views from the Hamburg Tower, as seen in the drive from Itzehoe to Hamburg Hauptbahnhof.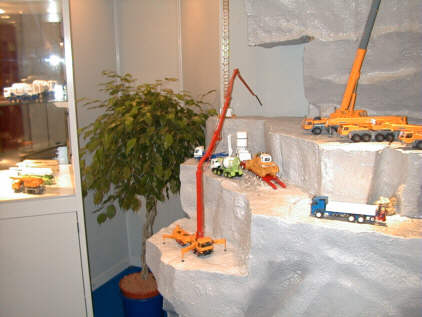 The Nuremberg Toy Fair is considered by many to be the premier manufacturer's show for model railroading products. See photos of various model railroading accessories and layouts, including some very detailed construction equipment to complement the layout.