Sectional Track comes to life!
3rd PlanIt's SoftTrak has revolutionized the way we design with flex track. Now you can have the same fast-moving, creative design style when you use Sectional Track such as Atlas or Kato. It has the same ability to connect between points, filling the path with the sectional track of your choice, optimized to the path you drew.


Quick Hookups!


SectTrak is a great time-saver for tight work you'd find in a steel mill or industrial area. Decide where you want things. Put in turnouts, connect them with SectTrak and see how they look. Position footprints for buildings, move things around a bit, and drag any loose ends of SectTrak to their new home. Things snap into place
These are three Roadbed Splines for the first turn of the helix. A reversing wye allows traffic from either direction to enter any of the three tracks on this turn. The outside track continues into the second turn, exiting on the lower left as shown in the 3D view above.


Nudge ends like real Sectional Track




Download
Buy Now

Design-by-Spline for

great

results



The image on the left shows the concept of SectTrak. On the top is a SoftTrak spline of flex track with two copies below it. The top copy was changed to SectTrak built of Kato Unitrack; the bottom copy is built with Bachmann EZ Track.


Both come close to the original spline, which wasn't limited by specific radii or tangent lengths. The lower two images show different constructions of that spline using the Sectional Track available in the library. The conversion happens
as fast as you can draw!
It's natural to look for track plans when you start thinking about a layout. In many cases they are only suggestions. You'll like a certain plan, but need to make it fit your area. There may be an particular factory or port you want to include. You might even have tried to make a plan from scratch but moving each part on its own didn't lead to any creative solutions.


SectTrak offers a you global perspective for your planning so you can be creative, not mechanical. You plan paths from Point A to Point B, setting the positions and directions of each end, or each control point in a multi-curve object. The track between the ends is selected from your track library piece-by-piece to find the most effective combination that follows your path.


The image above show a three-part path on the top. Each black area is straight track or "tangent" track. Every SoftTrak and SectTrak segment begins and ends with a tangent and usually has a curve between them.


Fast, natural editing


The sequence at the right shows how you edit SectTrak. Each of the thee is a single piece of SectTrak composed of five segments, shown in the bottom image while the track is being edited. Each blue square define a location the track should go through. Each red line and diamond defines the direction of the track through its associated blue square, which is known as a "vertex".


The top SectTrak was duplicated and moved south. Double-click SectTrak to edit its vertices; in the second image the exit point at the top was shifted south. It took less than 30 seconds to make the change, including a small change to the rightmost top curve.


The third image started with a copy of the second SectTrak route. While editing the second route, this nifty curve showed up. After saving the second route, we re-found that surprising curve now marked in green. This is the kind of thing SectTrak makes happen - unexpected, surprising, and often satisfying track. Knowing how you want the track to look and finding all the parts are very different tasks!








Why work from a canned plan?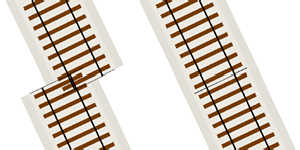 Sectional Track has some inherent give-and-take. Every piece can move a small bit relative to its neighbors. SectTrak can behave the same way! Here is an example of a 30-piece SectTrak route that missed its target by half the track gauge. It was set to Nudge To Target - and the change was spread out along the route to bring the ends into alignment.
Have fun designing your layout!


We're in this hobby for enjoyment. Keep your design experience fun and productive, even if you're new to model railroading or CAD. These are tools to design excellent track without doing the geometry, regardless of your experience.


And if you
enjoy

doing the geometry, there's no end to what you can do with 3rd PlanIt!