What can you do with CAD?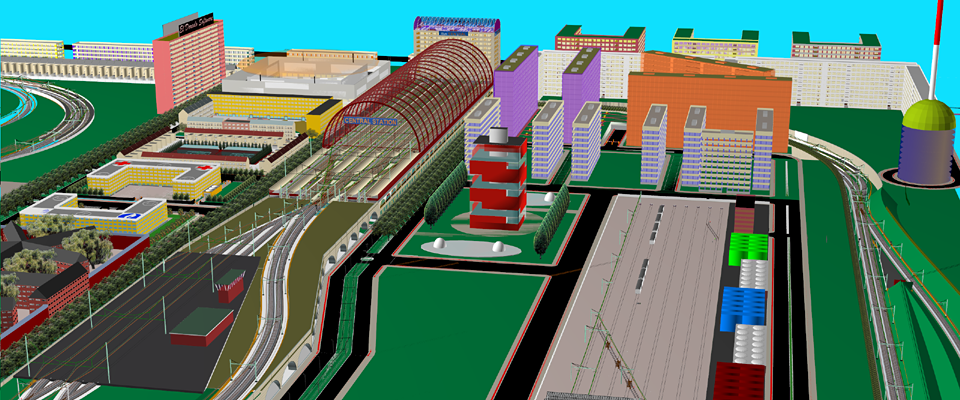 Almost anything you can imagine!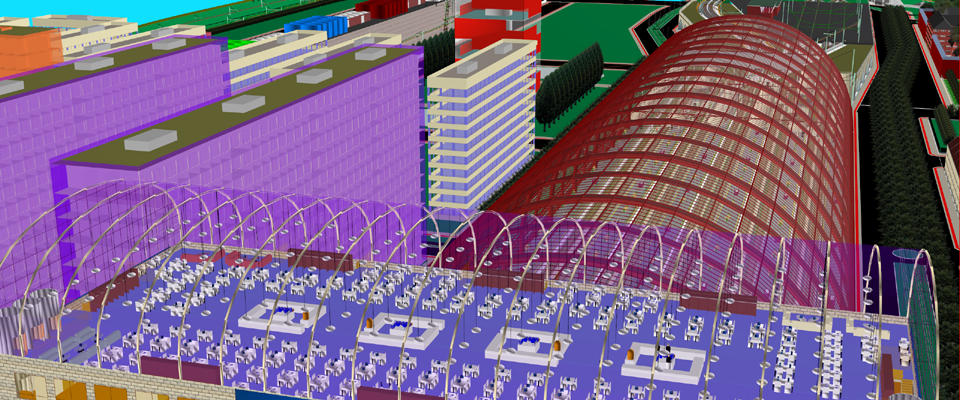 This amazing scene was designed over many years by Alfons de Winter of Antwerp, Belgium. In his mid-80's, Alfons decided his home in Antwerp was too small to build a satisfying model railroad. Instead, he is creating a highly-detailed, modern and realistic fantasy layout. It has both trains and trams, as well as buildings with stunning detail. You can't see the internal staircases in most of the buildings, but the detail in the foreground restaurant is dramatic. Tables with tablecloths, banquet serving stations with equipment, and hanging lights are just a few of the special features. A close look at the railroad station behind it shows detail in the glass roof and its support structure as well as the passenger facilities within the station.


While this layout will never be built physically, it is every bit as real to Alfons and the rest of the team who test 3rd PlanIt as any other design. It continues to evolve and maintain the high standards of creativity and realism you see here.


How about a layout designed to be built? How can 3rd PlanIt help you build the best layout you can?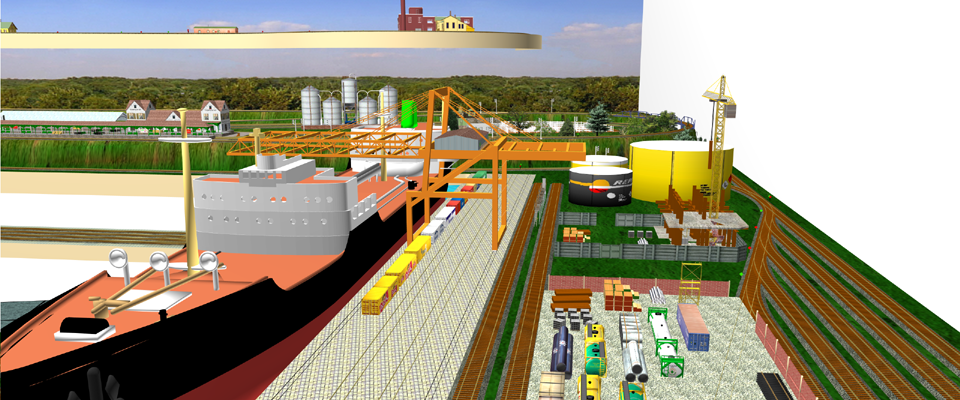 The "Nova Maquete" layout is by Helio Emery, who lived in Sao Paolo, Brazil at the time he designed it. He recently moved to Toronto with his family to pursue his career, so he doesn't know if Nova Maquete will actually be built. Hopefully it will; it is a beautiful layout.


The layout was designed with themes found in Brazilian railroads and industries. Almost everything you see in these images except for the container ship was designed from scratch by Helio in 3rd PlanIt.


Countless layouts of vastly different scenes have been designed in 3rd PlanIt in great detail. When these designs have been built, they turn out exactly as they appear in the 3D view. The author has visited a number of layouts designed in 3rd PlanIt that he saw in 3D View during the design phase, and later saw as they were being built. It's always a pleasant surprise to see the great similarity of the plan and the physical layout.


When you choose 3rd PlanIt as your CAD program, you have the most capable and flexible track planning system, as well as a comprehensive set of tools for building 3D-printable objects and CNC-fabricated Roadbed and Track Splines!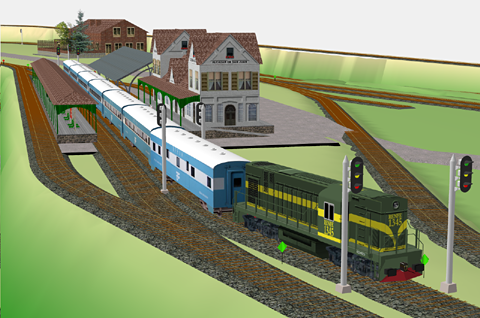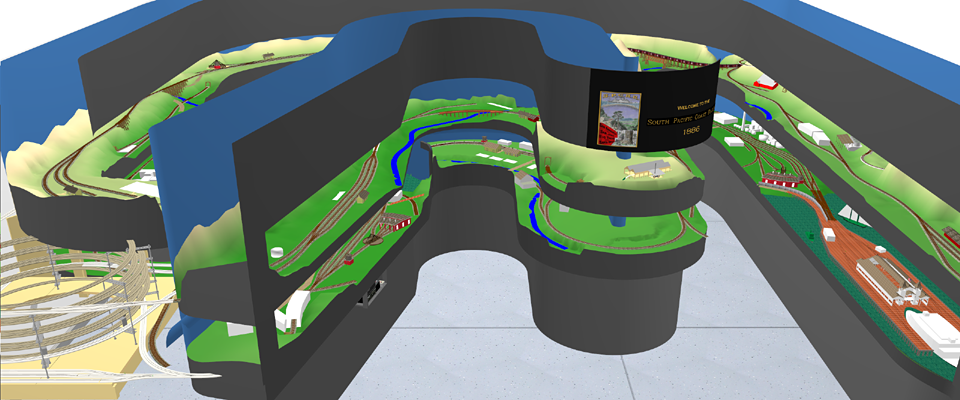 This is the South Pacific Coast Railroad by John Hall of Northern California. The layout is being built in an out-building that was also designed in 3rd PlanIt. John has made a lot of progress on it, and is now hand-laying the visible track. He is using Roadbed Splines to support the track and Track Splines to guide the hand-laying process, all fabricated by El Dorado Software. We know the demands of the hobby and use high quality materials on precision machines. Track Splines maintain a 0.002" tolerance required for hand-laid track, especially small-scale track.


John made a video of a trip through the partially-complete layout. As the camera drives along the tracks, notice the smooth curves as you look ahead. By using Track Splines to hand-lay the rails, John maintained the exact mathematical precision of the track plan. No more using rulers with holes in them to scribe curves. No more flexing a yardstick to make easements. Your trains will glide into curves with such grace you'll never go back to hand alignment of track.


The South Pacific Coast Railroad
The scale is HOn3 with rails only 0.413" apart. It requires a high level of craftsmanship and attention to detail to build a reliable pike in HOn3. Both are evident in this video. John designed the plastic structures, locomotives and rolling stock in 3rd PlanIt and had them fabricated at Shapeways. His skills, care and gentlemanly manners are well-represented in this work of art, history and technology.


Are you considering your first design? The work on this page is the product of people with a lot of experience and commitment to the hobby. Invest in 3rd PlanIt now, confident you can grow your skills without limit!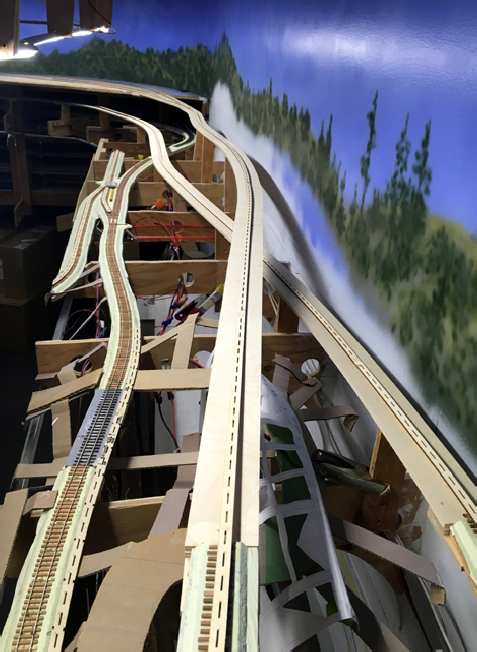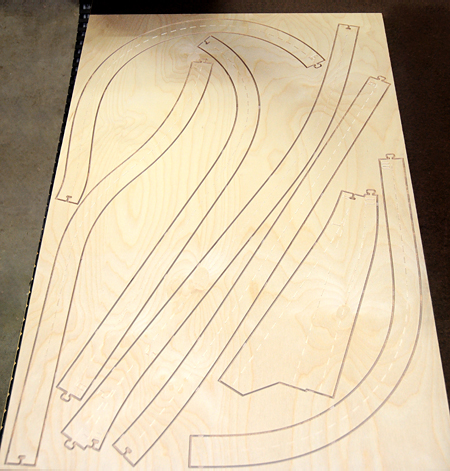 Download
Buy Now
Roadbed Splines and Track Splines produced by 3rd PlanIt and fabricated by El Dorado Software. Photo and videos courtesy of John Hall, used with permission.
3D Viewing and Operations


One of the most valuable features of 3rd PlanIt is the ability to view your layout plan from any location looking any direction in full, realistic 3D. You can even use red/blue "anaglyphic" 3D glasses from a theatre for enhanced 3D perception!


You can operate trains of any length in 3D view, checking the proportions of your layout compared to the rolling stock you anticipate running. You can view the layout from the top of the train as it moves, from a camera following the train, or from a set of fixed viewpoints that highlight scenes on your layout.


The video at the right is a great example of the value and realism of 3D viewing. Compare it to the actual recorded video above, even side-by-side. 3D viewing and operations are so similar to actually building a layout, you'll have confidence in your design before you begin to cut wood.